Restylane, the Original Dermal Filler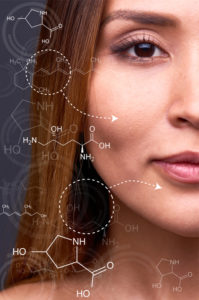 Trying to fill wrinkles by injecting substances under the wrinkle is nothing new. For hundreds of years, various substances have been injected, with widely varying degrees of success and safety, to try and push back upward wrinkled skin. Of course, all of that changed in 2002 when the United States' FDA approved Botox for aesthetic treatment of wrinkles on the upper third of the face. But Botox was only effective on wrinkles formed by repeated muscle contractions when we make expressions. To combat the other type of wrinkles, those wrinkles that show themselves at all times like the wrinkles on a shirt, dermal fillers were created. The first to hit the market in 2006 was called Restylane.
What started as a single filler intended for nasolabial folds and marionette lines has expanded into an entire family of Restylane products, each intended for different areas of the face. Dr. Perron offers Restylane fillers for his patients.
Hyaluronic acid
Restylane is a "natural" filler. This is because it is made of hyaluronic acid, a naturally occurring substance in the human body whose job is to hydrate and plump the skin. Hyaluronic acid does this because it can bind with 1,000 times its weight in water.
Restylane®
We offer all five dermal fillers in the Restylane® family. All of these fillers are hyaluronic acid fillers and intended for different areas of the face.
Restylane® — After it's approval by the FDA in 2006, Restylane®immediately became popular for addressing marionette lines, nasolabial folds, and other wrinkles by adding volume beneath the wrinkle or crease and pushing the surface skin upward. Its results last up to one year.
Restylane-L® — Restylane-L is Restylane® with Lidocaine added for comfort.
Restylane®Silk — Restylane® Silk is an alternative to Juvederm Volbella. It is used for subtle lip enhancement and the correction of vertical lip lines. It provides results for around six months.
Restylane®Lyft — Restylane® Lyft adds volume to the cheeks and corrects smile lines. It is an alternative to Juvederm®
Restylane®Refyne —Restylane® Refyne was approved by the FDA in December 2016. This new addition to the Restylane® line (along with Defyne, see below) is used to correct smile (marionette) lines and nasolabial folds. Refyne is specifically formulated to treat mild to moderate lines and wrinkles. Galderma has cross-linked the gel in Restylane® Refyne and Defyne to help support the patient's natural expressions — for real-life results that help maintain natural movement when smiling, frowning, or otherwise moving your mouth.
Approved along with Refyne, Defyne also specifically targets nasolabial folds and marionette lines. The difference is that Defyne is designed for use on moderate to severe creases and lines. Both Refyne and Defyne provide results that last up to one year.
Want to do something about those wrinkles caused by sun damage and natural aging? Call Dr. Perron at 403-228-7076 and ask which Restylane product would work for you.
Posted in: Dermal Fillers