Give Your Dermis Some Heat for the New Year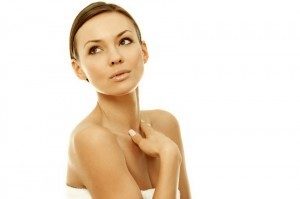 In the midst of a Calgary winter, you probably wouldn't think of heating the second layer of your skin. Well, unless you get a little too close to the fire…But at Dr. Perron'soffice, we love two noninvasive procedures that do just that to rejuvenate and tighten your skin. One uses laser energy, while the other uses radiofrequency energy, both with the same end goal —new collagen production to improve your facial firmness and quality for up to a year or more.
Laser light
Our GentleMax Laser directs light energy onto the treatment areas. The light energy penetrates the epidermis, the skin's outermost layer, and it enters the second layer, the dermis. Once it has penetrated the skin, the light energy converts to heat in the dermis. The body is not used to dealing with heat in the dermis, as you would assume. When heat is sensed in the dermis, the body thinks there must have been a wound to allow this. This triggers a wound response, which is to instantly remodel the collagen in the skin and also instigate new collagen production to "heal" the wound, even though there isn't any actual wound. Since collagen is responsible for our skin's underlying structural support, new collagen is important to firm, and improve the skin. This new collagen tightens the skin and improves fine lines and wrinkles, pushes out acne scarring, returns volume, and makes the skin look rejuvenated. And these results continue to build for up to a year, as the increased collagen is delivered to the treatment areas.
Radiofrequency energy
Our other treatment has a similar end goal, but it uses radio waves. Our Sublative RF treatment directs radiofrequency energy onto the skin of the treatment areas. The radiofrequency energy penetrates the epidermis and also enters the dermis, just as the laser energy did above. In the dermis, the RF energy converts to heat and it also triggers a wound response, building new collagen and improving the skin.
Is this laser skin resurfacing or skin tightening?
These procedures at Dr. Perron's are both skin tightening procedures. These are not to be confused with laser skin resurfacing, which removes the outer layers of the skin to promote new skin growth. Laser resurfacing requires some recovery, where our procedures do not.
Interested in firming up your skin without recovery? Call Dr. Perron at (403) 228-7076 to make an appointment or with any questions.
Posted in: Skin Care Treatments