Protecting Your Skin from Aging – 5 Healthy Tips
Our skin is exposed to all kinds of elements on a daily basis. Sun, wind, heat and cold can take their toll, but there are ways to make sure you're doing what you can to keep your skin looking and feeling healthy. Take action to keep your skin looking its best with these five helpful tips: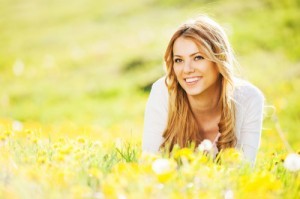 Limit Your Time in the Sun. Sunlight can cause age spots, and ultraviolet (UV) rays can damage the fibers that keep skin firm, resulting in wrinkles. While you can't go back and curb the sun-worshiping of your youth, you can take steps going forward to protect yourself from the sun's rays. Start by eliminating sunbathing, and always wear sunscreen with an SPF of at least 30. It's also a good idea to wear a wide-brimmed hat and avoid the sun during peak times in the day (from 10 a.m. to 2 p.m.) when the rays are strongest.
Watch Your Diet. It's true: changing your diet can help with your appearance. Lower your fat intake, and incorporate foods into your diet that are rich in antioxidants like fish, fruit, vegetables and nuts. Vitamin E, Vitamin A and Vitamin B (biotin) are also important for healthy skin. Breakouts can also be avoided by eating foods with complex carbohydrates like whole grains and pasta. Avoid alcohol too, as it's a diuretic that can cause the body to lose water and cause dry skin. And if you smoke, consider kicking the habit. Smoking can decrease blood flow to the face and promote wrinkles.
Get Some Shut-Eye. Dark circles under your eye paired with pale skin and puffiness are tell-tale signs you're not getting enough sleep. Aim for 7 to 8 hours of sleep a night to keep your skin looking its best.
Clean Skin Is Healthy Skin. Your skin braves the elements every day, whether it's air pollution or car exhaust. Be sure to wash your face every night with a gentle soap or face wash, then apply a moisturizer that works in harmony with your skin type. Even oily skin needs moisturizer, so look for oil-free products if your skin falls into this category.
Stay Active. Your entire body can benefit from exercise, including your skin. When you work out, your circulation improves, which helps nourish the skin. You're actually inhibiting wrinkles when you exercise because better blood flow leads to more oxygen and nutrients that can help produce collagen.
For more information on how to keep your skin healthy, contact Dr. Wayne R. Perron. We are located in Calgary and can be contacted at 403.228.7076. We look forward to hearing from you.
Posted in: Skin Care