Get Tucked in But Not at Bedtime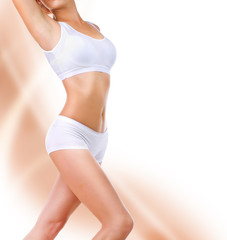 The dreaded tummy pooch. Just about all of us over the age of 35 have one. Sometimes it's the result of having the skin and muscles of the area stretched for too long during pregnancy. Sometimes a person has put on and then lost a good deal of weight, affecting those same muscles and skin. Plus, just the process of aging creates a pooch as our tissues slacken.
And no matter how many crunches you do, the pooch isn't going away because that sagging skin and separated muscles just won't play.
That's when a tummy tuck with Dr. Perron can bid a fond farewell to the pooch.
Don't confuse a tuck with lipo
People confuse a tummy tuck and liposuction because they both target the same area in many cases, the lower abdomen. But the two procedures address very different problems. Liposuction only removes pockets of fat. This is perfect if you are still relatively young and your stomach bulge is due to fat pockets that just don't seem to go away. Liposuction works well if your skin still has good elasticity in the area and if your muscles are still taut. If this is the case, liposuction will effectively slim your contour.
But if you have sagging, loose skin and if your underlying muscles have been stretched or separated by pregnancy or gaining and losing a large amount of weight, a tummy tuck is the answer. A tummy tuck will remove pockets of fat, but its main goal is to remove excess loose skin and tightening and repositioning the underlying stretched muscles. That's why a tummy tuck requires months of recovery versus liposuction's days of recovery — a tummy tuck is much more involved surgically.
How is a tummy tuck done?
For a full tummy tuck, Dr. Perron makes two incisions. One incision usually runs from hipbone to hipbone at the bikini line. The second incision is made at the belly button. The length of the first, longer incision can vary depending on just how much sagging skin needs to be addressed. The incision can run past the hipbones around to the lower back if the flanks and lower back also have serious sagging.
Once he makes the incision, Dr. Perron separates the skin from the abdominal muscles, which he pulls together and stitches into place for a firmer, narrower waist. Next, he takes the skin flap and stretches it downward over the newly tightened muscles. Excess skin is trimmed, and the navel repositioned in many cases.
Tummy tuck recovery
You'll need to wear compression garments for at least two weeks to reduce swelling and help the body adapt to its new contour. Recovery times will last up to a few months, due to the incision locations and the muscle repositioning. Heavy lifting and exercise need to be avoided for at least six weeks.
Want to say goodbye to your that saggy lower stomach? Call Dr. Perron at 403-228-7076 for a consultation on a tummy tuck.
Posted in: Tummy Tuck