Top Questions about Breast Reduction
Breasts that are extremely large can often cause a woman emotional discomfort. The extra weight of overly large breasts can also lead to physical discomfort, such as back pain. For patients suffering from these issues, breast reduction surgery may be the answer.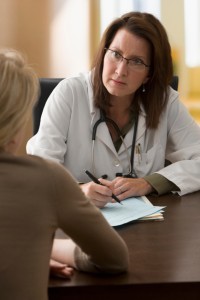 Breast reduction surgery is a highly-customizable procedure that works to reduce the size of breasts by removing excess tissue and fat. Let's take some time to learn more about this procedure.
Top Questions about Breast Reduction
What happens during breast reduction surgery? Breast reduction is performed under general anesthesia, taking several hours to complete.There are several techniques that may be used for the procedure, including traditional breast reduction, vertical incision breast reduction, and scar-less breast reduction. Traditional reduction surgery removes skin, fat, and tissue from the lower breast, so that the nipples can be repositioned. Vertical incision surgery involves extending incisions around the areola and down the breast, resulting in breasts that are more shapely. Scar-less breast reduction surgery utilizes liposuction to reduce the sizes of breasts, with little to no scarring!
Who is considered a good candidate for breast reduction surgery? Ideal candidates for breast reduction surgery are women who are in good physical health, and do not smoke. Finally, ideal candidates seek this surgery for their own personal reasons, and not to please anyone else.
Is breast reduction surgery safe? Like with any surgery, there are some risks associated with the breast reduction procedure. Your plastic surgeon will discuss the surgery at length with you, and extensively go over all the risks before you undergo surgery. Some possible complications associated with the procedure include infection, scarring, blood clots, and skin discoloration. Fortunately, when the procedure is done by a qualified surgeon, these risks will be extremely minimal.
How long does it take to recover from this procedure? The recovery time from breast reduction will vary due to the patient. Most patients will need to wear a protective surgical bra for about two weeks following the procedure. Swelling and bruising can occur following this procedure, and patients may need to take painkillers or anti-inflammatory medication to reduce pain and swelling. Stitches will eventually dissolve on their own.
Breast Reduction in Calgary
If you have questions about breast reduction surgery, contact us to schedule a consultation. Our offices are located in Calgary, Alberta, and can be reached at (403) 228-7076. We look forward to hearing from you!
Posted in: Breast Procedures