Do You Want Higher Breasts or Larger Breasts…or Both?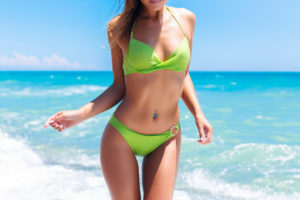 If people were asked to name the most hated aspect of aging, at least visually, most people would say the sagging and loosening of, well, basically everything. It affects our skin, making our cheeks sink and flatten. It affects our legs, allowing spider veins to form as our veins and support tissues slacken. It affects our neck, creating banding and making way for jowls. It affects our upper arms, creating what are sometimes known as "bat wings" on the upper under arms.
And it affects a woman's breasts. As if gravity wasn't enough, breast sagging is also accentuated by pregnancy, breastfeeding, and changes in weight. What were once firm breasts that sat high on the chest are now drooping and in some cases the nipples can even be pointing downward.
When this happens a woman wonders what happened to her former, higher breasts. Dr. Perron doesn't want to answer that somewhat existential question, but he can reverse what gravity and the other factors have caused with a breast lift, or maybe simply augmentation is all that's needed. Or…maybe both.
Three ways for younger-looking breasts
There are three ways to surgically return the breasts to their younger-looking profile. If a woman wants only a modest elevation of her breasts and wants larger breasts, breast augmentation may be the answer. The nipples will appear higher, and the upper part of the breasts will be fuller. Plus, in augmentation, scars are virtually invisible if they are placed around the areolae.
But when a woman likes the size of her breasts, yet wants to eliminate sagging, the excess skin needs to be removed. This calls for a breast lift. This procedure creates more extensive scarring. Dr. Perron uses two incision methods, depending on the amount of lift needed.
In a lollipop method, the incision circles the areola and extends downward to the breast crease. This type of lift will elevate the breasts about 2 inches or less.
If a greater amount of elevation is needed, the incision will follow the lollipop method, plus will extend horizontally along the breast crease in both directions. This is called an anchor incision and it allows the largest amount of skin removal.
Combining the two
Sometimes, a woman wants to have a lift, but would also like to replace volume that has been lost due to breastfeeding and aging. In these cases, Dr. Perron combines a breast lift with augmentation. The extra step of adding implants during a breast lift is quite easy, as the incisions needed for access have already been made. Plus, by adding augmentation to your breast lift, you have just a single recovery for what, in effect, are two procedures.
Who needs gravity and the after-effects of pregnancy and breastfeeding? Have Dr. Perron turn back the clock on your breasts, as if you've been living in the International Space Station for a decade or so. Call us at (403) 228-7076 to schedule a consultation to decide what procedure, or combination, is best for your situation.
Posted in: Breast Procedures